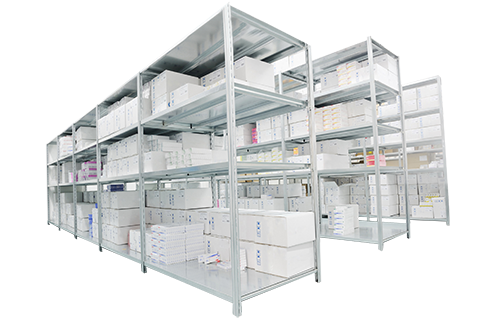 You Can Count on Industry-Leading
Vendors & Suppliers
At PlentyRx, we help you source pharmaceuticals from industry leading, DSCSA-compliant vendors, and from a selection of NABP-Certified Suppliers; those that have received accreditation through the National Association of Boards of Pharmacy (NABP).
Our state-of-the-art platform gives you immediate access to multiple track and trace compliant wholesalers, offering over 200,000 quality-assured products. This means you can quickly and easily compare pharmaceutical prices, while knowing you're getting only the very best.
You can count on:
Multiple Qualified Vendors: this way, you can access a wide variety of choices, from top providers in the industry
Confirmed & Documented: each supplier's pedigree process meets transparent transactions and rigorous requirements
Fast Shipping Methods: immediate shipping that gets you just what you need - right when you need it
Top Quality Guarantee: we hold all our partners to the same high standards we honor ourselves
Over 200,000 Products: this way, you get access to the diverse selection you require to serve your patients
The Best Rates: opportunities that help you quickly reduce the cost of pharmaceuticals, so you can boost your bottom line
When you work with PlentyRx, you can breathe a sigh of relief, knowing you're interacting with top vendors and suppliers; dedicated businesses committed to providing only the best quality pharmaceuticals.
For more information on DSCSA requirements, visit the FDA's DSCSA Guidance page.
Fully-Transparent, So You're Always In-the-Know
Through PlentyRx, you have direct access to your supplier's information; including transaction pedigree, invoice/pedigree request combo at point of sale, or you can even directly request transaction history from each supplier.
This way, you never have unanswered questions about any suppliers and vendors. Everything is fully-transparent, and we ensure all the information you require is right at your fingertips.
At PlentyRx, You Get the Very Best Quality...
Every Step of the Way
Whether you're ordering for a clinic, hospital, or pharmacy - your patients are counting on you for pharmaceuticals that help them get the safest and best treatment.
That's why PlentyRx is committed to connecting you with DSCSA-compliant vendors and a selection of NABP-compliant suppliers. We believe that you and your patients deserve the highest quality products and experiences; and we're dedicated to giving you the best sources for pharmaceuticals, at rates that don't break the bank.
Signing up for an account is fast and easy, and even better, it's free. Click the link below to open your account, so you can start meeting your pharmacy's goals.